Hong Kong
Attractions
Hong Kong the World City is full of amazing sights and destinations. Here are some of the top areas to visit and things to see.
Kowloon Waterfront - Walk the promenade in Kowloon in an evening to enjoy being up close and personal with the Victoria Harbour, as well as see the amazing lights of the buildings across the water on Hong Kong Island. Try to time it for 8pm when the amazing Symphony of Lights coordinates building lights all around the harbour into one grand light display. Website: discoverhongkong.com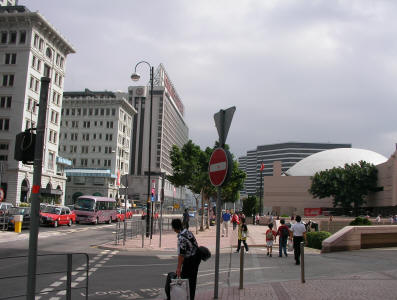 Nathan Rd - The major road through Kowloon it includes the famed Golden Mile of hotels, world class shops and eateries of every time. Website: nathan-road.hk
Kowloon Park - One of the green lungs of the city this large and wandering park runs beside Nathan Road and includes several historical buildings, the Kowloon Mosque, outdoor art, an aviary and public sports facilities such as a swimming pool. Website: lcsd.gov.hk
Temple Street - Home of the world famous Temple Street Night Market, street side Cantonese Opera singing and traditional Chinese Fortune Telling this street is worth walking at any time of the day but is best seen after dark. Website: temple-street-night-market.hk
Mong Kok - Often listed as the most densely populated place on Earth this mixed residential and commercial district is a draw for all visitors and residents of Hong Kong. Whether it be the Ladies Market (ladies-market.hk) for street shopping, or Nathan Road for malls, or going to a cinema there is everything to occupy one here at any time of the night or day. Website: hk-mongkok.com
Wanchai - A once seedy reputation has been replaced with a mix of revitalized art, food and residences in this on-time girly-bar district. With historic buildings such as Wanchai Post Office, the Pawn Shop and the Blue House preserved alongside modern hotels and developments this is a must visit location. With side streets selling everything from toys to household renovation supplies Wanchai has to be experienced to be believed. Website: hk-wanchai.com
Causeway Bay - The eastern heart of up-market Japanese shopping has gone international and now boasts both Japanese department stores such as Sogo combined with modern malls including the World Trade Center and Times Square. But with residential blocks abounding in the district small shops and markets are still interspersed here allowing you to walk from a fresh fish market to a Versace showcase in less than 5 minutes. Website: discoverhongkong.com
Victoria Peak - The iconic mount overlooking the harbour has never been more explorable or entertaining. With the historic Peak Tram taking you from the sea level to the peak in minutes, then great shopping, dining and walks are just moments away. The Peak Garden and Mount Austin Playground offer public spaces with outstanding views just minutes away from the busy shops and tourist attractions of the Peak Tower and the Peak Galleria. Website: hk-victoria-peak.com
Central - One of the major financial centers of the world the Central business district may not be imaginatively named but it holds offices of all the major banks and investment companies, and all the supporting organizations would imagine. Watch the busy traders at lunch or the smart office workers going to and fro. Everything is busier in Central.
Cheung Chau - Once a sleepy fishing village, and the oldest continuously inhabited part of Hong Kong, this outlying island is now a major draw for both local and overseas visitors. Stay in one of the weekend holiday flats, explore the wildlife on the short but interesting walks, check out the beaches and have a drink overlooking the sea or dine in one of the many bustling seafood restaurants that line it's working fishing harbour. cheung-chau.com
Peng Chau - The smallest of the main populated island of Hong Kong this sleepy fishing village lets you step back 50 or 100 years and see what life in Hong Kong was like in days gone by. Website: cnn.com
Lamma Island - Popular with an expatriate population this outlying island is a great place to go for dinner, either a traditional Chinese seafood meal, or a western bar or pub. Website: lamma-island.com