Ngong Ping 360
Cable Car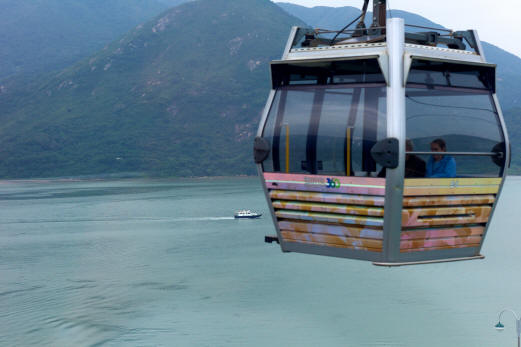 The third cable car system in Hong Kong, after the Peak Tram and Ocean Park, the Ngong Ping 360 Cable Car system is operated by the MTR Corporation which also runs the railway system in Hong Kong.
Since it's completion in 2006 it has become one of the preferred ways to reach the interior and mountainous parts of Lantau with it's 25 minute comfortable "flight" from Tung Chong to Ngong Ping just beside the Giant Buddha and Po Lin Monastery.
Built specifically to allow tourists easier access to the sights of Lantau it consists of almost 6km long two cable system with suspended gondola or "cable cars". The system gives views of the Airport and the Nei Lak Shan. Much of the ride is over the Lantau Country Park.
How to get there
Ride the MTR from anywhere in Hong Kong to the Tong Chung MTR Station, and follow signs for the 5 minute walk to the lower cable car terminus. Alternatively from the airport take bus Tung Chung, any of the "S" route buses are suitable though the S1 and S52P are slightly cheaper.
Opening Times
Open from 10am on weekdays and 9am on weekends the cable car keeps running until 6pm on Weekdays and half an hour later at 6:30 on weekends. Public holidays such as Chinese New Year are open, and use weekend hours.
Fees
Single trips are HK$94 per adult, with discounts for children and Hong Kong resident senior citizens. There are many packages available that provide discounts, from round trip tickets which are a 40% savings from the one way at only HK$135 for the two way ticket, through to the "Bus, Boat, Cable Car" package which for HK$200 per adult gives you access to all Lantau busses as well as a boat trip at Tai O Fishing Village.
What to do
The best part of the trip is probably the relaxation of being seated for 25 minutes with nowhere to go! While you are relaxing don't forget to check the view and take plenty of photographs.
If taking the cable car "up" then you will arrive at the upper terminus which is next to Ngong Ping Village.
Ngong Ping Village
This specially built reproduction village is at the top of the Lantau island and has souvineer shops and food outlets.